A thousand years ago, the MacCarthys were among the wealthiest, most powerful septs in Ireland. The leading 18th century historian Charles O'Conor of Belanagare hailed them as 'the most eminent by far of the noble families of the south'. Today, the surname of MacCarthy (or McCarthy) is one of the twenty most frequently found in Ireland, primarily in County Cork.
The family take their name from Cárthaigh, Lord of the Eoghanacht and King of Cashel, who reigned over the Golden Vale of Tipperary circa 1040, at a time when Donnchadh mac Briain, a son of Brian Boru, was King of Munster. 
Cárthaigh's father was Saoirbhreathach, a Gaelic name anglicised as Justin, from the Latin word Justinus, meaning 'just', 'fair', or 'righteous'. Cárthaigh's own name means 'loving', so McCarthy translates as the 'son of the loving one', or, more loosely, 'a loving person'. 
From the earliest times the MacCarthy name has been associated with the kingdoms of Munster and Desmond in south-west Ireland. King Cárthaigh claimed descent from Eoghan, one of the two sons of Oilioll Olum, a King of Munster whose reign coincided with the glory days of the Roman Empire. Eoghan's descendants, known as the Eoghanacht, dominated Munster virtually unchallenged until the meteoric rise of Brian Boru and the Dalcassians (or Dal gCais), who descended from Eoghan's brother Cormac Cas. The conflict between the Eoghanacht (who became the MacCarthys) and Dalcassians (who became the O'Briens) tore Munster apart for over 150 years. 
King Cárthaigh was among the victims of this brutal war. According to the Annals of the Four Masters in 1045, the king and 'many nobles' were burned to death when members of the Dalcassian family of Lonergan set his home on fire. The Dalcassians then expelled the leaderless Eoghanacht from Tipperary, driving them down into south Munster. This area, which includes the modern counties of Cork and Kerry, is where the McCarthy's have been most strongly associated ever since. 
In 1118, Tadhg Mac Carthaigh rebelled against Muirchertach Ua Briain, the ailing King of Munster. The rebellion ended with the Treaty of Glanmire whereby the kingdom of Munster was broken in two. Henceforth, the McCarthys had their own Kingdom of Desmond, from the Irish 'Deas- Mhumhain', meaning 'South Munster', while the Ua Briain's became Kings of Thomond (ie: 'North Munster'). 
On the eve of his death in 1123, Tadhg abdicated as King of Desmond in favour of his brother Cormac who ruled for the next fifteen years. During this time Cormac established his capital at Cork, building his royal residence (or 'sean dún') on a rocky outcrop overlooking the Lee at Shandon. His fortress was later replaced by Lord Barry's Castle before being converted into the President of Munster's base during the plantations. It is now the site of the Firkin Crane Arts Theatre.
Although there would be titular Kings of Desmond until 1596, the kingdom effectively came to an end when Diarmod Macarthy Mór, King of Desmond, was slain in 1186 by the Norman baron Theobald Fitzwalter, founder of the House of Butler. 
Desmond & The Wine Trade​
As the capital of the Kingdom of Desmond, Cork boomed and its merchants traded with ports in Wales, England and France. It seems highly likely that French wines were imported into the city at this time to meet the demands of the Irish clergy and the aristocratic élites who dominated Ireland. The Vikings who ruled Cork before the MacCarthy's arrived certainly had settlements in the wine-growing region of the Loire Valley in northern France from where they shipped large quantities of wine to Ireland. For instance, the Danish Vikings of Limerick paid an annual tribute to Brian Boru of 365 wooden pipes (or hogsheads) of red wine every year (ie: 252 gallons, or over 1500 present-day 75cl bottles) while the king also received a tribute of 150 hogsheads of wine from the Vikings of Dublin.
When the future King Henry II married Eleanor of Aquitaine in 1152, her dowry included most of the winegrowing region is of western France based on Gascony, Poitou and particularly Bordeaux. At this time the Dukes of Aquitaine were also Counts of Poitou and the city of Poitiers grew in importance. Henry II was king of England at the time of the Cambro-Norman invasion of Ireland.
When Gerald of Wales visited Ireland in 1185–6, he reported: 'Imported wines . . . are so abundant [in Ireland] that you would scarcely notice that the vine was neither cultivated nor gave its fruit there. Poitou, out of its own superabundance, sends plenty of wine and Ireland is pleased to send in return the hides of animals and the skins of flocks and wild beasts.'
According to one Cork historian, the twelfth-century carved heads, or Romanesque voussoirs, in St Fin Barre's Cathedral, Cork, originated in Poitou, which 'confirms that district as a probable source of much of the wine brought to Cork by Hiberno-Vikings, as well as foreign merchants. Another historian observes: 'A lucrative exchange with Poitou meant that, despite a lack of vineyards, there was no shortage of wine in Ireland. The merchants of Waterford traded animal hides and bird skins in return for wine.
Throughout the 13th century, Norman merchants and enterprising Italian bankers ensured a steady supply of wine from Bordeaux and Poitou to both Norman and Gaelic households, as well as among the King's expeditionary forces. The O'Driscolls, or Ó hEidirsceoils, also had a trading fleet that was active along the French Atlantic Coast in the Bay of Biscay, as far south as Gascony, importing wine back to their region and into Munster. They also imported cloth, spices, peppers, saffron and silk. In return, they exported oats, beef and pork, as well as hides, wool and woolfells.
Archaeological evidence of wine consumption has been found in abundance around Cork's North Main Street in the form of 13th-century pottery from Saintonge, near Bordeaux. Trade with Poitou declined when the region was reunited with the French crown in 1416.
The Four Branches of MacCarthy​
Despite their displacement from Tipperary in the 11th century, the MacCarthys continued to be rule over their new lands, dominating southern Munster for almost five centuries. Four distinct branches had emerged by the 13th century, each of whom would endeavour to resist the intrusion into the region by the various Norman, Plantagenet, Tudor, Cromwellian and Williamite armies. However, the eventual defeat of the Gaelic kings meant that, like virtually all the Gaelic aristocracy, the MacCarthys lost almost everything. In 1606 the Kingdom of Desmond was formally partitioned between counties Cork and Kerry.
MacCarthy of Muskerry 
The McCarthys of Carrignavar were one of numerous sub-infeudations/sub-lordships within the overlordship of the Princes of Muskerry.vii The Muskerrys descend from Dermod Mor, second son of Cormac MacCarthy Mór, King of Desmond, who was created Lord of Muscry (Muskerry) in 1353. His descendants included the Earls of Clancarty, Viscounts Mountcashel, and Barons (Lord) of Blarney. Their power base ran along the valley of the River Lee, with the Boggeragh Mountains to the north and the Shehy Mountains to the south. Their main strongholds were at Macroom and Blarney where an unlikely legend holds, they received the Blarney Stone as a thank you gift from Robert the Bruce for their support at the battle of Bannockburn in 1315. 
MacCarthy Mór (Great MacCarthy) 
The nominal head of all the MacCarthys, ruled over much of south Kerry and had their principal seats at Pallis Castle (near present-day Killarney), Castle Lough (on Killarney's Lough Leane), and Ballycarbery Castle (near Cahersiveen on the Ring of Kerry). In the 12th century, the Normans erected a line of castles along the River Maine to form a defensive barrier between them and the McCarthy's of Desmond. In the 1590s, Finnian mac Donnchadh Mac Cárthaigh, aka Florence MacCarthy, the last McCarthy Mór king, was imprisoned in the Tower of London for colluding with the Spanish. Although he was released, his support of the doomed Gaelic earls at the battle of Kinsale meant he was hurled back into the Tower where he remained until his death nearly 40 years later. During that time, he composed Mac Carthaigh's Book, a collection of annals of the period AD 1114–1437. 
The Duhallow MacCarthys
They controlled the northern frontier of the Kingdom of Desmond, now northwest Cork, from their base at Kanturk.
MacCarthy Reagh (MacCárthaigh Riabhac) 
Based in Carbery, the MacCarthy Reagh (MacCarthy the Grey) ran a semi-independent kingdom in southwest Cork. It was established in the 1230s by Donal Gott MacCarthy, a grandson of Diarmod Macarthy Mor, King of Desmond. Their principal castles were at Kilbrittain (near Kinsale) and Timoleague. In the mid-17th century, Donogh McCarthy Reagh, Chief of the McCarthy Reaghs, moved north to Bansha, County Tipperary, and purchased the lands at Springhouse (now Kilshane). From this line came Dennis MacCarthy, founder of Château MacCarthy.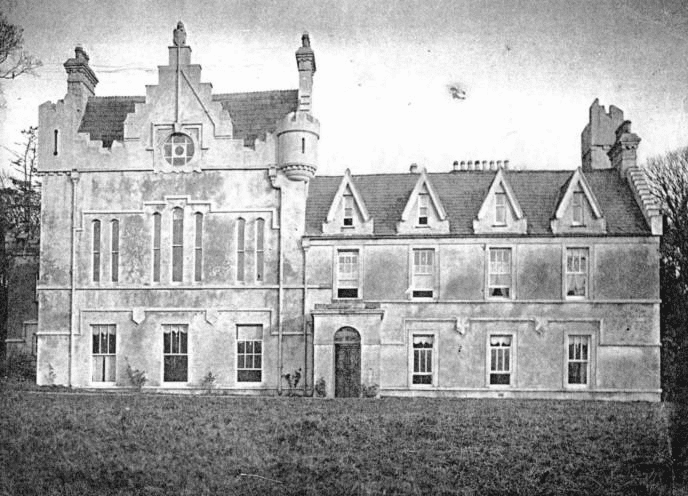 Daniel McCormacke M'Carty of Carrignavar
Carrignavar Castle was built by Daniel McCormacke M'Carty. He was the second son of Cormac MacCarthy, 16th Lord of Muskerry, who died at Blarney Castle in 1616. Daniel, who died in 1671, married Katherine, daughter of Stephen Meade, although he is also said to have married Jennet Sarsfield, widow of Thomas Fitzwilliam Sarsfield, Alderman of Cork.
Charles M'Carty of Carrignavar & Ballinwillin
Daniel's eldest son Charles (Cormac) M'Carty is recorded on the Down Survey of 1670 as a substantial landowner in the Civil Parish of Gortroe, near Bartlemy, owning, for instance, 184 plantation acres in the townland of Ballinwillin (Baile an Mhuilinn) and 166 plantation acres in the adjoining townland of Ballynure (Baile an Iúir).
The lands may have come to him through his marriage to Catherine Roche, daughter of David Roche, 7th Viscount Fermoy. 
Charles, a patron of late Gaelic poetry, was attainted for his support of James II and the Jacobites in 1688, at which point his lands were given to Dr Jeremy Donovan, LLD. However, it seems Dr Donovan was secretly holding these lands on Charles's behalf and they were returned to him when he renounced Catholicism in favour of the established Church of Ireland. According to a bill of discovery filed in 1717, "Charles is a Papist and born of Popish parents, but to evade the laws he has lately pretended to conform to the Protestant religion, but it is only a cloak."
Daniel M'Carty of Carrignavar
Charles was predeceased by his son Daniel M'Carty, who may have died on account of the Williamite Wars that engulfed Ireland between 1689 and 1691. In 1685, Daniel married Elizabeth, the Dowager Lady Cahir. She was the widow of Pierce Butler, 4th Baron Cahir, who died of 'a surfeit of claret' in 1676; one contemporary recalled that the late baron 'was never to be reclaimed form that vice of drinking, otherwise a very pretty man.' Elizabeth's father Theobald 'Toby' Mathew was a half-brother of the Great Duke of Ormonde, who gave him gave the manor, castle and town of Thurles, along with a vast estate. Elizabeth died in 1704, leaving two sons, another Charles (d. 1761) and another Daniel.
Charles M'Carty of Carrignavar (d. 1761)
When Charles (Cormac) M'Carty died, he left Carrignavar to his eldest grandson, Charles. The younger Charles was married to Lucy, a daughter of Morgan Kavanagh, Esq. of Borris House, County Carlow. He died without issue in 1761 and was succeeded by his nephew, Daniel.
Daniel M'Carty, Esq. of Carrignavar (D. 1763)
Daniel was the son of Daniel M'Carty and Grace Fitzgerald. In 1751 he married the Hon. Elizabeth-Geraldina de Courcy, daughter of Gerald de Courcy, 17th Lord Kingsale, who served as a Privy Councillor in the 1740s. In 1755, Daniel McCartie [sic] took a 999 years lease on Carrignavar, dated 25 March, from Thomas Farren. He succeeded his uncle Charles in 1761 but he was himself dead within two years, at which time Carrignavar passed to his twelve-year-old son Justin. As well as Justin, Daniel was father to Robert (who later succeeded to Carrignavar) and Elizabeth (who married Maurice-Uniacke Atkin, Esq., of the Co. Cork.)
Justin M'Carty (1751-1775) of Carrignavar
Justin was only twelve when he succeeded to Carrignavar. When he died, without issue, in 1775, aged twenty-four, the estates devolved on his brother, Robert. 
Robert M'Carty, Esq., of Carrignavar (D. 1823)
Robert M'Carty, second son of Daniel and Elizabeth-Geraldina, succeeded to Carrignavar on the death of his older brother in 1775. In 1784, he married Jane Capel, daughter of Captain Capel, Esq., of Cloghroe, with whom he had two sons, Justin (his heir) and Joseph (who died unmarried in 1821) and a daughter, Elizabeth (who was married in 1811 to Joseph Deane-Freeman, Esq. of Castlecor, Co. Cork.)
Justin M'Carty (1786-1864) of Carrignavar
Upon his death in 1823, Robert was succeeded by his 37-year-old eldest son Justin. In 1810, Justin married Maria-Isabella, daughter of Caleb Falkiner and granddaughter of Sir Riggs Falkiner, Bart. They had four sons, Robert (1811-1865, married Elizabeth Hyde of Castle Hyde), Justin (1816-1900), Frederick-Caleb, MD, and the Rev. Joseph Maccartie, xiii as well as seven daughters. Samuel Lewis refers to Carrignavar as the seat of Justin McCarthy in 1837. In 1847 Justin was described by Burke as 'chief of his name, and representative of the eldest existing branch (ie: Muskerry) of the once sovereign house of the M'Cartys, the most illustrious of all those families whose names begin with Mac.' He held a Commission of the Peace for Co. Cork. He died in Plymouth in 1864. 
In August 1851 parts of the McCarty's estate at Carrignavar (8,493 acres) and Cloghroe (3,080 acres) were advertised for sale. In March 1852, 2,799 acres in the baronies of Barrymore and Cork were again advertised for sale. At the time of Griffith's Valuation, he held a large estate in the parish of Dunbulloge, barony of Barrymore. He also held land in the parishes of Moviddy (barony of East Muskerry) and Whitechurch (barony of Barrymore). 
Justin MaCartie (1816-1900) of Carrignavar
Born in 1816, Justin Macartie was the second son of Robert and Maria-Isabella and became a prominent lawyer in the late 19th century. In 1848 he married Louisa, daughter of Major Edward Fitzgerald, with whom he appears to have had two sons, Frederick Fitzgerald MacCartie (1851-1916, a lieutenant colonel in the Indian Army) and Robert Capel MacCartie (1856-1924), while his grandsons included Major General Sir Gerald de Courcy Morton. In the 1870s his Cork estate was calculated at 3,435 acres. He died on 20 February 1900. 
Bence Jones described Carrignavar as 'a late 19th-century castellated house incorporating the remains of the old castle.' The house was bought by John Sheedy in the 20th century and sold by him in the 1950s to the Sacred Heart Fathers who converted it into the Sacred Heart College (Coláiste an Chroí Naofa), a secondary school that opened in 1950.
Jacobite McCarthys – The Wine Geese
The Earls of Clancarty
Cormac Oge M'Carty, the older brother of Daniel McCormacke M'Carty of Carrignavar Castle, became the 17th Lord of Muskerry. He was father to the 1st Earl of Clancarty (who commanded King Charles I's forces in Munster against Cromwell) and Eleanor (who married her cousin Cormac MacCarthy Reagh, Prince of Carberry, commander of the Munster clans during the 1641 Rebellion.) 
The 1st earl's grandson Donough M'Carty, 4th Earl of Clancarty, forfeited the family estates in Cork and Kerry by supporting King James II, after which he moved to Hamburg where he died bankrupt in 1734. Most of his estates were taken up by King William III's principal adviser and reputed lover, Hans Willem Bentinck, 1st Earl of Portland.
Viscount Mountcashel & The Duc De Clancarty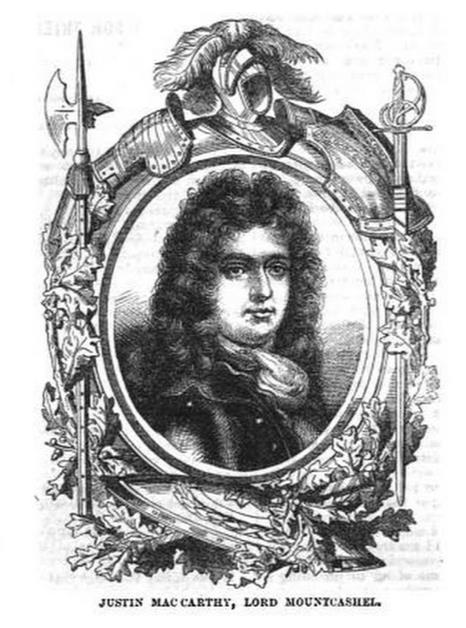 Justin MacCarthy, Viscount Mountcashel, was one of James II's closest advisors and military commanders. He was also an uncle of the 4th Earl' of Clancarty, as well as a cousin of Daniel McCormacke M'Carty of Carrignavar. After his army was defeated at the battle of Newtownbutler, County Fermanagh, in 1689, Justin fled to France where he commanded the 5000-strong Irish Brigade in the French army of Louis XIV. Created Duc de Clancarthy by the French king, he died at Barèges in the French Pyrenees in 1694.xx 
Justin MacCarthy's portrait by Sir Peter Lely was long held as a prize possession by the Carrignavar family. That is because, in the absence of an heir, Justin left his titles and estates to his cousin, Florence Callaghan MacCarthy (d. 1715) of the Carrignavar sept. 
Florence's son Callaghan MacCarthy, 3rd Duc de Clancarthy, was an officer in the Irish Brigade and a Knight of the Order of St Louis but was killed at the battle of Fontenoy in 1745. 
The 3rd Duc's son, another Florence McCarthy, served with the French navy but perished at sea. Pol MacCarthy, who claimed to be the seventh (and last) Duc de Clancarthy, served with Napoleon III as a lieutenant in the Franco-Prussian war of 1870.
Dennis MacCarthy & Château MacCarthy
John McCarthy married Catherine Fitzgibbons in Gortroe, Mitchelstown, in about 1770 … in which year his distant cousin Denis MacCarthy founded Château MacCarthy in Bordeaux.
Dennis MacCarthy (1719–1796), for whom Château MacCarthy is named, is believed to have been a scion of the MacCarthy Reagh of Carbery. An online family tree suggests his father Daniel McCarthy (born 1680) was the son of John McCarthy (born c. 1650), a Jacobite officer, and his wife, Elizabeth Hacket. This may have been the Daniel MacCarthy recorded in Anjou in 1697.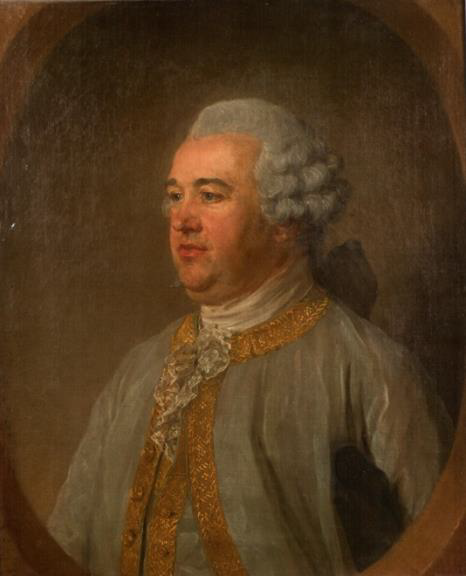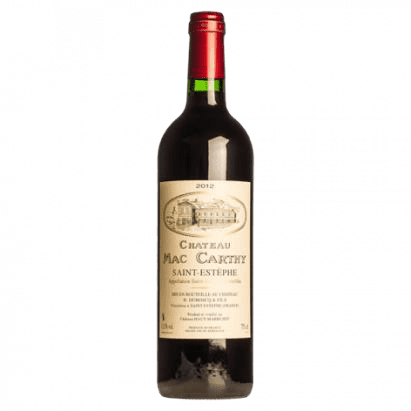 The same tree holds that John McCarthy the Jacobite was a son of another Denis MacCarthy of Kyne and Lackyduss in County Cork, whose father was allegedly created Viscount Timoleague by James I in 1610. Denis may also have been a kinsman of a Hilarion MacCarthy who was at La Rochelle Bernard in 1699.
Like the Lynch, Clarke and Dillon families, Denis settled in the St Estephe region near Bordeaux. He became one of the French port's most prominent citizens, as well as Lord of Beaujé and Fouvidal, serving as director of the Bordeaux Chamber of Commerce (1767) and Premier Consul of the city (1767-1768).
In 1719 Denis married Jane Fitzgerald but they had no children. As such, he invited his nephews John and Donald MacCarthy over from Tipperary. They founded MacCarthy Frères, a négociant company that specialized in shipping wines to Britain, Ireland and Scandinavia. Ennobled as counts by Louis XV, they were given the seigneurie of Marliere, while Rue MacCarthy in Bordeaux-Caudéran also commemorates their success.
In 1854, an inheritance crisis brought on by the Napoleonic Code compelled the family to divide up the 61-hectare estate at Marbuzet and sell it to the Raymond family. The estate was bought by the Duboscq family of Château Haut-Marbuzet in 1988 and the Château MacCarthy brand has since then been used to label the second wine of their production. In 2003 Château Haut-Marbuzet was classified as one of the nine Crus Bourgeois Exceptionnels.
Count MacCarthy Reagh of Springhouse
The MacCarthys of Springhouse, County Tipperary, were another scion of the MacCarthy Reagh, Prince of Carbery. Justin MacCarthy owned a massive 9,000-acre estate centred on Springhouse. According to one contemporary, he was owed so much money by his Protestant neighbours that he was single-handedly responsible for delaying the enforcement of the Penal Laws in County Tipperary by many years.
Religious persecution ultimately proved too much for his son and heir Denis who succeeded to Springhouse in 1756. He went into exile in France at the height of the Seven Years War, and died at Argenton, near Bourges, in 1761.
Denis's son Justin lived a particularly remarkable life. Born at Springhouse in 1744, he succeeded to the Springhouse estate aged seventeen. Four years later, he married Maria Tuite, the co-heiress of Nicholas Tuite, a fellow Irishman who had made his fortune developing sugar plantations on the Danish Caribbean island of St Croix. That said, Justin apparently spent the rest of his life complaining that he never received the promised dowry from his exceptionally rich father-in-law.
Justin followed in his father's footsteps and moved to France 'in order to enjoy the free exercise of his religion'. In 1766, he was ennobled by King Louis XV as Count MacCarthy Reagh, of the City of Toulouse, and admitted to the honours of the French Royal Court at Versailles. He and Maria settled in Toulouse where they lived in palatial splendour at a townhouse on the Rue Mage, now one of the city's most famous banking halls. He was reputedly one of the best amateur violin-players in Europe while he also assembled one of the finest private libraries in existence, including a fourteenth-century copy of the Brehon Laws, a Cicero paper and many rare vellum manuscripts. The Duke of Devonshire offered him £25,000 for the collection but Napoleon would not allow it to be removed from France. It was broken up and sold after his death for less than £17,000.
Count McCarthy Reagh survived the ravages of the French Revolution and died in 1812. His eleven children included his third son Robert, who succeeded as count and served in the French Chamber of Deputies, and another son Nicholas Tuite McCarthy, the Abbé de Lévignac, a renowned Jesuit preacher and theologian who died at Annecy, Savoie, on Easter Sunday, 1833. The title became extinct on the death of the fourth count in 1906.
– With thanks to Kieran McCarthy and Maria O'Brien. 
"To the brave and the faithful, nothing is difficult"